Dechra launches new solution for feline chronic allergic dermatitis
11 April 2017
A popular treatment for atopic dermatitis in dogs has now been licensed for the symptomatic treatment of chronic allergic dermatitis in cats.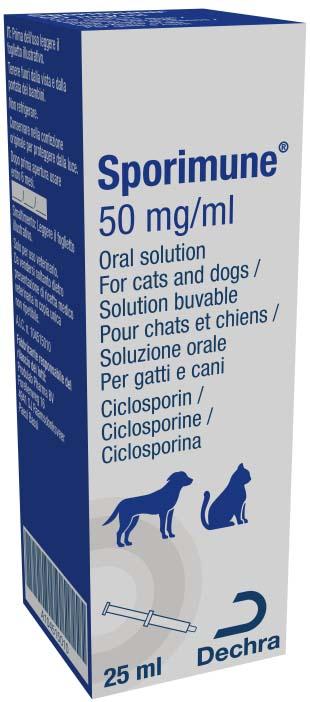 Sporimune®, marketed by Dechra Veterinary Products, is the first ciclosporin oral solution to be licensed for use in both cats and dogs.
In cats with allergic dermatitis, ciclosporin has proved to be an effective alternative to prednisolonei . It has a long-term safety record for chronic treatment of canine atopic dermatitis and remains one of the most important tools within a multi-modal strategy.
Sporimune is available with two dosing syringes per bottle – one for cats and one for dogs – that are graduated in body weight and ml. Its liquid formulation ensures it is easily titrated to the animal's weight.
Three bottle sizes allow for flexibility in dispensing and broached bottles last a full six months.
Dechra Brand Manager Claire Morgan said: "We are delighted to be able to introduce this popular and effective treatment for cats.
"Allergic skin disease can be challenging to diagnose and manage effectively for both owners and vets, with around 20 per cent of all small animal consultations involving skin conditions.
"Sporimune is a key component of a multi-modal approach involving guidance on allergen and flare factor avoidance and improving skin and coat hygiene to minimise clinical signs and the effects on quality of life for both animal and owner."
i Palmeiro, B.S. (2013) Cyclosporine in Veterinary Dermatology, Vet Clin Small Anim 43, 153-171