Dechra to unveil new treatment for Addison's disease
30 March 2016
Dechra Veterinary Products will launch a new medication in the treatment of canine hypoadrenocorticism at the British Small Animal Veterinary Association Congress in April.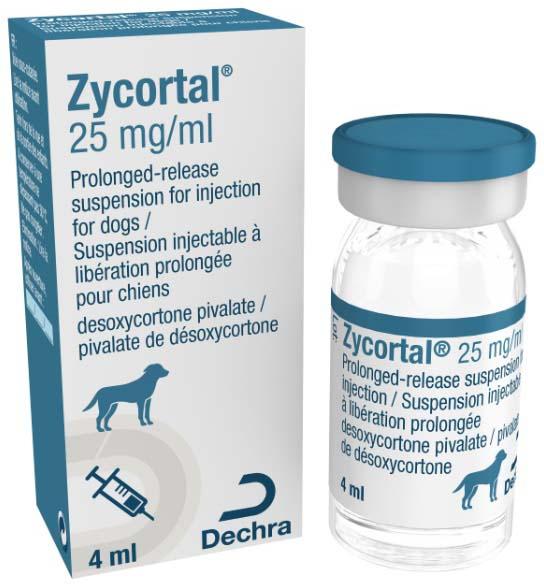 Zycortal® is the only European licensed treatment for the condition. It is a valuable addition to Dechra's endocrinology range that already includes Vetoryl® for cases of canine hyperadrenocorticism (Cushing's syndrome).
Hypoadrenocorticism, also known as Addison's disease, is caused by a reduction in corticosteroid secretion from the adrenal glands. Symptoms can include vomiting, diarrhoea, lethargy, lack of appetite, tremors or shaking, muscle weakness, low body temperature, low heart rate and collapse. If left untreated, Addison's disease can present as an acute, life threatening emergency.
Zycortal is a prolonged-release suspension used as replacement therapy for mineralocorticoid deficiency in dogs with Addison's disease. It has proved highly effective in clinical trials with more than 80 per cent of dogs responding positively to treatment1.
It contains desoxycortone pivalate (DOCP) which controls serum electrolytes more effectively than fludrocortisone2, the human treatment currently prescribed for dogs with Addison's disease and is considered the preferential drug for mineralocorticoid supplementation.
Visitors to the BSAVA Congress, which runs from April 7 to 10 at the ICC in Birmingham, will be able to find out more about Zycortal at the Dechra stand (500) and discuss the benefits of the treatment.
Delegates are also invited to attend a presentation by Professor Ian Ramsey BVSc PhD DSAM DipECVIM-CA FHEA MRCVS on Saturday, April 9, at 11.10am at Congress.
The presentation, 'New developments in the diagnosis and management of Addison's disease' will give delegates an insight into this challenging condition.
Dechra Brand Manager Craig Sankey said: "We are very excited to be able to bring Zycortal to veterinary professionals in the UK. Addison's disease can be very hard to diagnose as it mimics so many other illnesses. Each injection of Zycortal lasts approximately one month, providing long-term control of primary Addison's disease. The prognosis for dogs with Addison's disease is excellent provided that treatment is maintained for life. Our team will be on hand at the BSAVA Congress to explain and discuss the benefits that Zycortal can bring to their day to day practice in the fight against this illness."
1 CVMP Assessment report for Zycortal (EMEA/V/C/003782/0000) 2015 pg.19
2 Baumstark, M.E. et al (2014) Use of plasma renin activity to monitor mineralocorticoid treatment in dogs with primary hypoadrenocorticism: desoxycorticosterone versus fludrocortisone. Journal of Veterinary Internal Medicine 28(5): 1471-8