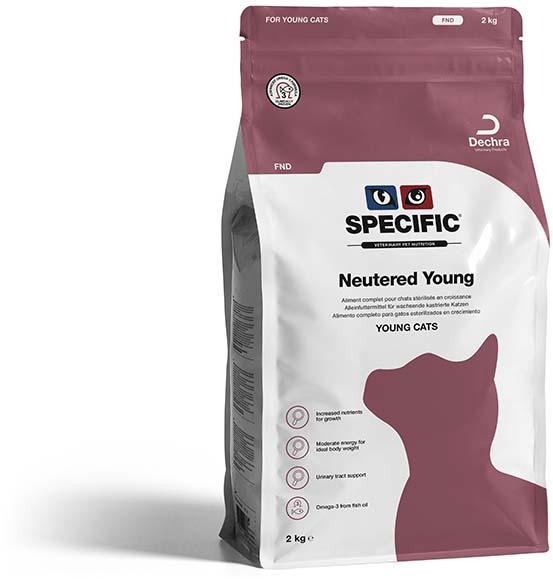 SPECIFIC™ Neutered Young is a complete balanced pet food for growing neutered cats.
| | |
| --- | --- |
| Ingredients: | Maize protein, fish meal, maize, wheat, rice, cellulose powder, pork fat, egg powder, animal protein hydrolysate, minerals, vitamins and trace elements (including chelated trace elements), potato protein, beet pulp, fish oil, psyllium husk, taurine, Yucca powder. With natural antioxidants (tocopherols, rosemary extract and vitamin C). Contains no added artificial colours or flavourings |
| Recommended for | Growth of young neutered kittens. |
| Pack size(s): | 2kg, 3x2kg, 4x400g, 400g |
Growth support: Increased levels of protein, vitamins and minerals to meet the requirement of growing kittens.
Healthy urinary tract support: The controlled, moderately reduced urinary pH and the controlled content of magnesium and phosphorus discourage precipitation of struvite crystals and support a healthy urinary tract, while still supporting growth and acid-base balance in young kittens. The urine is undersaturated for struvite and metastable for calcium oxalate.
DHA from fish: DHA is an omega-3 fatty acid which supports the development of the brain and vision.
Skin, coat & joint support: EPA and DHA are both omega-3 fatty acids with a beneficial effect on the development of healthy skin, coat and joints.
Odour control: Yucca extract reduces the production of malodorous gasses and the smell of faeces.