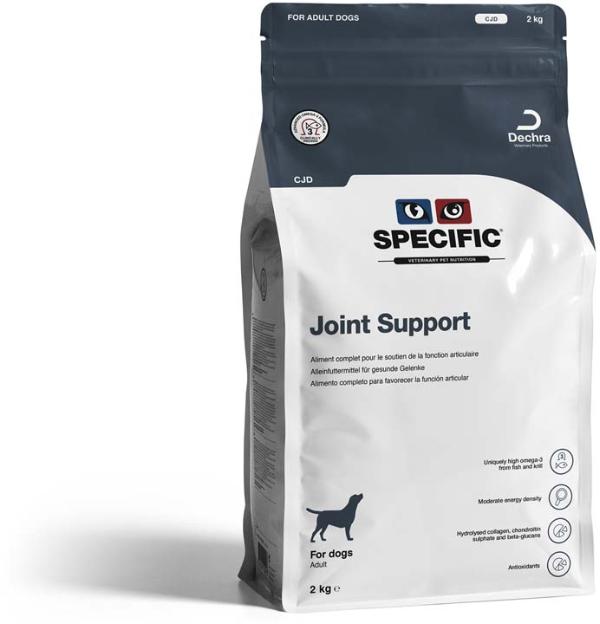 SPECIFIC™ Joint Support is a complete and balanced pet food for adult and senior dogs for the support of healthy joint function.
| | |
| --- | --- |
| Ingredients: | Wheat, fish meal, rice, cellulose powder, fish oil, beet pulp, egg powder, animal protein hydrolysate, PETAGILE® (hydrolysed collagen), vitamins and trace elements (including chelated trace elements), Antarctic krill, minerals, yeast (including source of ß-1,3/1,6-glucans), psyllium husk, chondroitin sulphate, borage oil, L-carnitine, rosemary extract. With natural antioxidants (tocopherols and vitamin C). Contains no added artificial colours or flavourings. |
| Recommended for | Complete diet for adult and senior dogs for support of a healthy joint function. |
| Not recommended for | Young, fast growing puppies. Pregnant or lactating bitches. |
| Pack size(s): | 4 g, 4 kg, 12kg (3x4kg) |
| Datasheet: | Download get_app |
Mobility support: Uniquely high levels of omega-3 fatty acids, EPA and DHA and omega-6 fatty acid GLA for support of a healthy joint function and mobility through support of natural anti-inflammatory processes in the joint and reduced cartilage degradat
Omega-3 from fish: The omega-3 fatty acids are derived from fish oil and krill and thus present as preformed EPA and DHA to benefit immediately from their beneficial effects.
Moderate energy: A complete, balanced diet with a very moderate energy density for support of optimal weight management and maintenance of healthy joints. Contains L-carnitine to stimulate fat oxidation and preservation of lean muscle mass.
Joint protection:Contains hydrolysed collagen peptides, ß-1,3/1,6-glucans and chondroitin for support of healthy joints by supporting the natural anti-inflammatory processes and reducing the activity of cartilage degrading enzymes. High levels of antioxidants to scavenge free radicals in the joints. High level of manganese, a cofactor in the synthesis of proteoglycans, to support a healthy joint funct