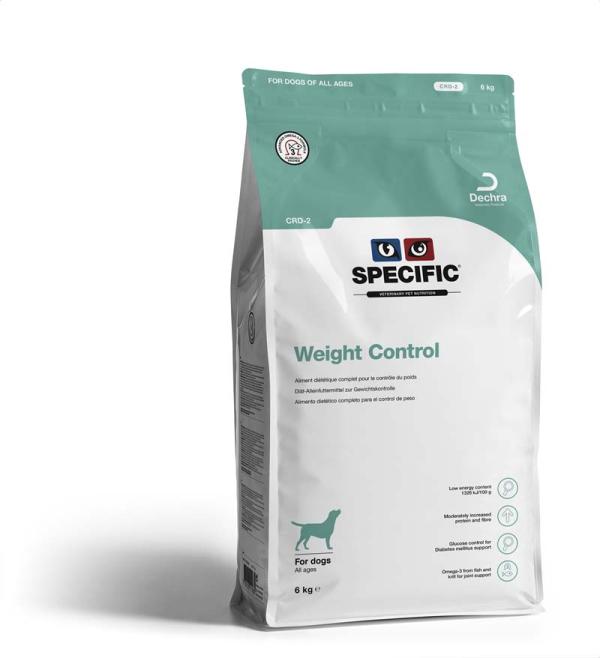 SPECIFIC™ Weight Control is a complete dietetic pet food for reduction of excessive body weight or maintenance of ideal weight and for regulation of the glucose supply (diabetes mellitus) in dogs.
| | |
| --- | --- |
| Ingredients: | Wheat, fish meal, maize protein, cellulose powder, beet pulp, egg powder, animal protein hydrolysate, minerals, vegetable oil, vitamins and trace elements (including chelated trace elements), Antarctic krill, fish oil, potato protein, yeast, psyllium husk, methionine, L-carnitine, rosemary extract. With natural antioxidants (tocopherols and vitamin C). Contains no added artificial colours or flavourings. |
| Recommended for | Weight control. Diabetes mellitus. Colitis, chronic diarrhoea, constipation. Hyperlipidaemia. Cholestasis. |
| Not recommended for | Young puppies and pregnant or lactating bitches with high energy need. |
| Pack size(s): | 1,6kg, 3x1,6kg, 12kg, 6 kg |
| Datasheet: | Download get_app |
Moderate energy, high fibre: The low content of fat and high content of fibre result in a low energy density. Even during a period of weight reduction and/or weight control this will enable the owner to feed a considerable amount of food, supporting that the dog's appetite is sated.
Optimal weight: L-carnitine transports fatty acids into the mitochondria and stimulates oxidation of fat and preservation of muscles.
Joint support: Omega-3 fatty acids from fish and krill help to maintain normal mobility in joints of overweight dogs. Omega-3 fatty acids also support a healthy skin and coat.
Moderately increased protein: The moderately increased protein content supports maintenance of muscles.
Diabetes mellitus: The content of complex carbohydrates and the high level of fibre promote a gradual release of glucose from the diet, which makes it suitable for patients with diabetes mellitus.